---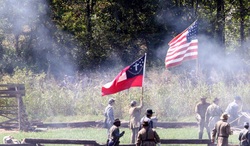 PLEASE NOTE FLYING OF CONFEDERATE NATIONAL AND REGIMENTAL COLORS IS ENCOURAGED.

We will not disgrace our ancestors, Confederate or Federal by attemoting to place the Politiccally Corerct Crowd, nor will we bow to Tyrants who wish our History made palatable to them.

This was a Bloody War that Fire-formed this Nation into who it is today. These were American Citizen Soldiers, who held different Loyalties in battles that showed the true Valor of both Sides as well as the terrible sacrifice, showed their Honored Banners from that War.

If you do not like either the Union of States National and Regimental Colors nor the Confederate National and Regimental Colors, please do not attend as a spectator, we respect your beliefs and would fight to protect them but we also recognize our ancestors beliefs and history and will not bow our heads on either side to political expediency nor to ANY hate group.


---
Welcome to the Annual Reenactment of
The Battle of Tunnel Hill
on Hallowed Ground at Tunnel Hill Georgia
The Annual War Between the States Battle Reenactment since 1993
Recreating the Battles and Skirmishes
In North West Georgia Beginning the 100 Days Fight to Atlanta and The Sea


Sponsored by The Tunnel Hill Historical Foundation

Hosted by The Alabama Division of Reenactors, Inc.

The 35th (Hill's 5th Regiment) Tennessee Infantry
5th (East) Tennessee Infantry USV

An Armies of the Heartland, Western Alliance Event
---
---
PLEASE EXCUSE THE LATENESS OF GETTING WEB SITE UP DATED BUT TECHNICAL ISSUES DELAYED THE UPDATES! THANK YOU FOR UNDERSTANDING

SEPTEMBER 11-13TH 2015
School Day Program Sept. 5th 2014

Battles Saturday and Sunday

Military Ball Planned For Saturday Night for Period Participants
with The Award Winning 5th Alabama Regimental Band
Official Band of the Alabama Division of Reenactors, inc.
Conductor Harry Jackson Officiating

Usual amenities, firewood, water, bedding straw. No Period Attired Reenactor Registration Fees. Sutlery is limited and by prearrangements. Artillery Bounty this year is limited to 6 Full Sized Guns ( prior guns have considered first.. 3 gun positions open )and 2 Mountain Howitzers (filled). IF I CAN SECURE MORE FUNDS I WILL PROVIDE BOUNTIES IN ORDER OF Registration. Sorry boys this year we are limited on funds.

No Registration Fee but Donations will go directly to the Tunnel Hill Historical Foundation and preservation (including the W&A Rail Road Tunnel and the Depot)

Further announcements to follow here or you may call 678-939-3679


---
Sanctioned Event By The Armies of the Heartland

---

The Battle of Tunnel Hill Web Site is new and will be expanded as time permits.
Keep Track Of Our Preservation Efforts Here
Visit the Foundation Heritage Center & Museum

35th (Hill's 5th Tenn ) Tennessee Infantry / 5th East Tenn. Inf. USV

Hosting the Battle of Tunnel Hill since 1993

---

---

---

---

Very Creative Poster Produced by Paul Crawford for entry into an Art Contesulant




---
---